J. Sainsbury PLC (OTC:JSAIY) Downgrade
In a research report sent to clients and investors on Tuesday, 17 November, Citigroup downgraded shares of J. Sainsbury PLC (OTC:JSAIY) to "Neutral" rating from "Buy" rating.
About 13,505 shares traded hands. J Sainsbury plc (ADR) (OTC:JSAIY) has declined 12.65% since April 15, 2015 and is downtrending. It has underperformed by 10.11% the S&P500.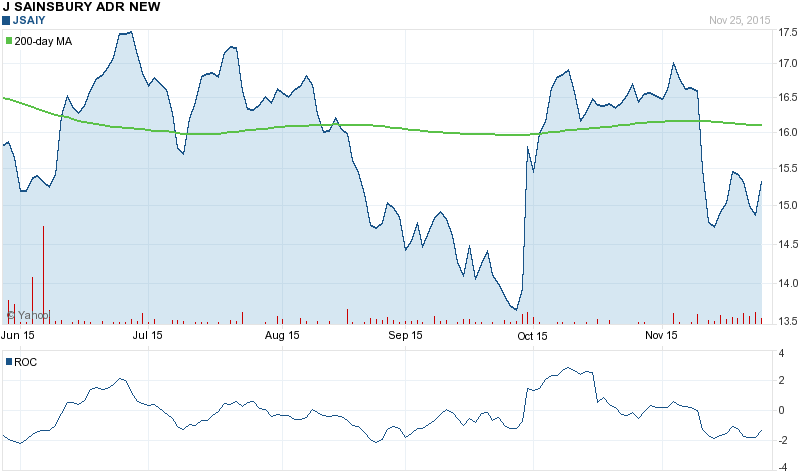 J Sainsbury plc is a United Kingdom company, engaged in supermarkets and convenience stores, and an online grocery and general merchandise operation. The company has a market cap of $7.24 billion. The Firm also has two property joint ventures with Land Securities Group Plc and The British Land Company Plc. It has 11.39 P/E ratio. Sainsbury's Bank provides a range of banking and insurance products.
J Sainsbury plc is a leading UK food retailer with interests in financial services. It consists of Sainsbury's Supermarkets, Sainsbury's Local, Bells Stores, Jacksons Stores and JB Beaumont, Sainsbury's Online and Sainsbury's Bank. It employs 148,000 people.
J. Sainsbury PLC - Receive News & Ratings Via Email - Enter your email address below to receive a concise daily summary of the latest news and analysts' ratings with MarketBeat.com's FREE daily email newsletter.